RF switch board kit
(4:1 Mux/SP4T)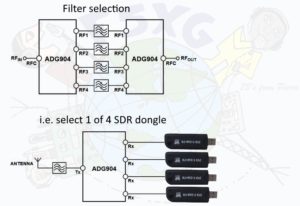 This kit will be available soon, until we receive orders placed to.
We have 28 boards from stock, so we can deliver only this amount of kits.
Price will be fixed later, but very low under ~50€.
This board was developed in the project "tracking weather-meteo probes".  And to retrieve the probe after his landing on earth.
In some cases it is useful to track different radio "sources" quickly and safely.
This board allow doing this without any effort.
This board can be used for many other applications.For instance to select different SDR dongles.
Selection is made via a µcontroller using 3-bit binary address lines.
---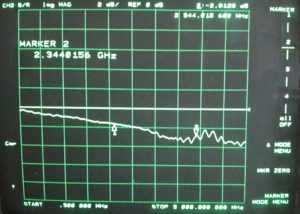 The core of this circuit is the ADG904 from
ANALOG DEVICES:
Wideband 2.5 GHz, but usable with more loss up to 3 GHz
Low insertion loss (1.1 dB dc to 1 GHz)
37 dB Isolation at 1 GHz,
has 50 Ω terminated shunt legs
-2,3 dB @ 2.34 GHz(measured on the boards)
The curve at right, show the use up to 3GHz
---
The full description is available to download here :
[download id= »187″ template= »Full_description »]